High Gold Grades Intersected And Depth Potential Confirmed By First Drill Holes From 2011 Program At Pelangan Prospect, West Lombok
Vancouver, B.C.: Southern Arc Minerals Inc. (TSX Venture: SA) is pleased to announce the results of the first five diamond drill holes of its 2011 program at Pelangan, West Lombok. These have confirmed that high-grade epithermal gold mineralisation remains open beyond 250 metres depth below surface. All Phase 2 drill holes to date have intersected Mineralised Structural Breccia ("MSB") epithermal mineralisation.

Highlight intersections are described below. All intervals are reported as downhole lengths.

Drillhole PLD003 returned:

PLD003 16.55 m @ 5.5 g/t Au & 3.7 g/t Ag from 232.95 m

(including 7.70 m @ 10.9 g/t Au & 6.1 g/t Ag from 237.5 m)

(including 4.50 m @ 17.6 g/t Au & 8.0 g/t Ag from 240.7 m)

PLD003 intersected high-grade mineralisation over 250 m vertically below surface and 100 m below the high-grade intersection of PLD002 thus confirming the depth potential at Pelangan. The mineralisation in this area is exposed at the surface and remains open at depths exceeding 250 m. PLD003 was drilled in the same cross-section as previously reported drill holes RGD01 (10.70 m @ 2.93 g/t Au & 20 g/t Ag, including 4.7m @ 5.8 g/t Au & 27 g/t Ag), PLD001 (4.85 m @ 7.11 g/t Au & 18.5 g/t Ag) and PLD002 (17.25 m @ 5.73 g/t Au & 11.7 g/t Ag).

Drillhole PLD008 intersected MSB mineralisation 50 m southeast of drill holes PLD001, PLD002 and PLD003, approximately 90 m below surface and returned two broad mineralised intervals:


PLD008


11.55 m @ 9.80 g/t Au &


31.1 g/t Ag from 70.35 m


(including 3.50 m @ 26.1 g/t Au & 96.5 g/t Ag)


and


11.80 m @ 1.40 g/t Au &


9.2 g/t Ag from 93.7m


(including 2.00 m @ 3.70 g/t Au & 22.6 g/t Ag)


Drillholes PLD004 and PLD006 have been completed on a section 150 m southeast of PLD003 down dip from the Phase 1 drill hole RDG04 (9.5 m @ 6.2 g/t Au & 41 g/t Ag). These holes intersected MSB's at 75 m and 115 m below surface respectively and returned mineralised intervals grading:

PLD004 10.95 m @ 2.0 g/t Au & 34.0 g/t Ag from 79.25 m (including 1.50 m @ 5.6 g/t Au & 166 g/t Ag)


PLD006 16.15 m @ 1.4 g/t Au & 12.0 g/t Ag from 110.05 m (including 2.45 m @ 4.7 g/t Au & 34.0 g/t Ag)

Drillhole PLD005 intersected two narrow zones of mineralisation approximately 200 m northwest of PLD003 these have returned:


PLD005

and




1.75m @ 1.15 g/t Au & 4.9 g/t Ag from 72.20 m

1.95 m @ 1.16 g/t Au & 13.7 g/t Ag from 92.90 m


From President and COO Mike Andrews, "It goes without saying that we are very excited with these results. These first few holes have already demonstrated down dip continuity of both grade and width. It's important to remember that this Central Raja zone represents less than 10% of strike length established to date for Pelangan alone. Drilling will continue to step out on 50 m spaced sections at Raja to identify further high-grade shoots for aggressive infill drilling. Drilling at the 600 metre long South Raja Zone will commence shortly."

The Pelangan Prospect is located at the northwest end of the West Lombok Mineralised Structural Corridor, a 13 km long by 7 km wide northwest trending mineral belt containing both epithermal gold and porphyry Cu/Au mineralisation within Southern Arc's Mining Business Licence or IUP (Figure 1).

Surface mapping and Phase 1 shallow drilling has indicated more than 5 km aggregate strike length of outcropping MSB-type gold mineralisation. The 2011 program targeting the gold mineralisation has commenced with three drill rigs testing the deeper portions of the 400 m long Central-Lode portion of the Raja MSB Target.

Figure 2 shows the geology of the Raja target and locations of the drill holes already completed and those in progress. Drillhole locations, azimuths, dips and depths are summarised in Table 1 and a long-section projection of drill hole mineralised intervals is presented in Figure 3.

On behalf of the Board of

Southern Arc Minerals Inc.

"John Proust"

Chairman and CEO

For Further Information Please Contact:

John G. Proust, Chairman and CEO

Southern Arc Minerals Inc.

Suite 1500, Box 1078, 885 West Georgia Street, Vancouver, BC V6C 3E8 Canada Telephone: (604) 676-5241 Fax: (604) 676-5246 Email: This email address is being protected from spambots. You need JavaScript enabled to view it.


Qualified Person and Quality Control and Assurance

The information in this release has been compiled under the supervision of Southern Arc's Chief Geologist, Andrew Rowe B. App. Sc. Geology, MAusIMM. Mr. Rowe has over 18 years of international mineral exploration experience throughout SE and Central Asia and Australia. During this time he has held such positions as Chief Geologist – Feasibility Studies, Senior Geologist and Consulting Geologist. Mr. Rowe has sufficient experience relevant to the style of mineralization under consideration and qualifies as a Qualified Person as defined in terms of NI 43-101.

All assaying of samples was undertaken by the ITS laboratory in Jakarta. ITS is one of the world's largest product and commodity testing, inspection and certification organizations. The Jakarta laboratory is ISO 17025 accredited and employs a Laboratory Information Management System (LIMS) for sample tracking, quality control and reporting.

Forward Looking Statements

This news release contains forward looking statements relating to expected or anticipated future events and operations, timing of projects and anticipated results that are forward looking in nature and, as a result, are subject to certain risks and uncertainties, such as general economic, market and business conditions, the regulatory process and actions, technical issues, new legislation, competitive and general economic factors and conditions, the uncertainties resulting from potential delays or changes in plans, the occurrence of unexpected events, and the company's capability to execute and implement future plans. Actual results achieved may vary from the information provided herein as a result of numerous known and unknown risks and uncertainties and other factors. There is no representation by the company that actual results achieved during the forecast period will be the same in whole or in part as that forecast.


Neither the TSX Venture Exchange nor its Regulation Services Provider (as such term is defined in the policies of the TSX Venture Exchange) accepts responsibility for the adequacy or accuracy of this release.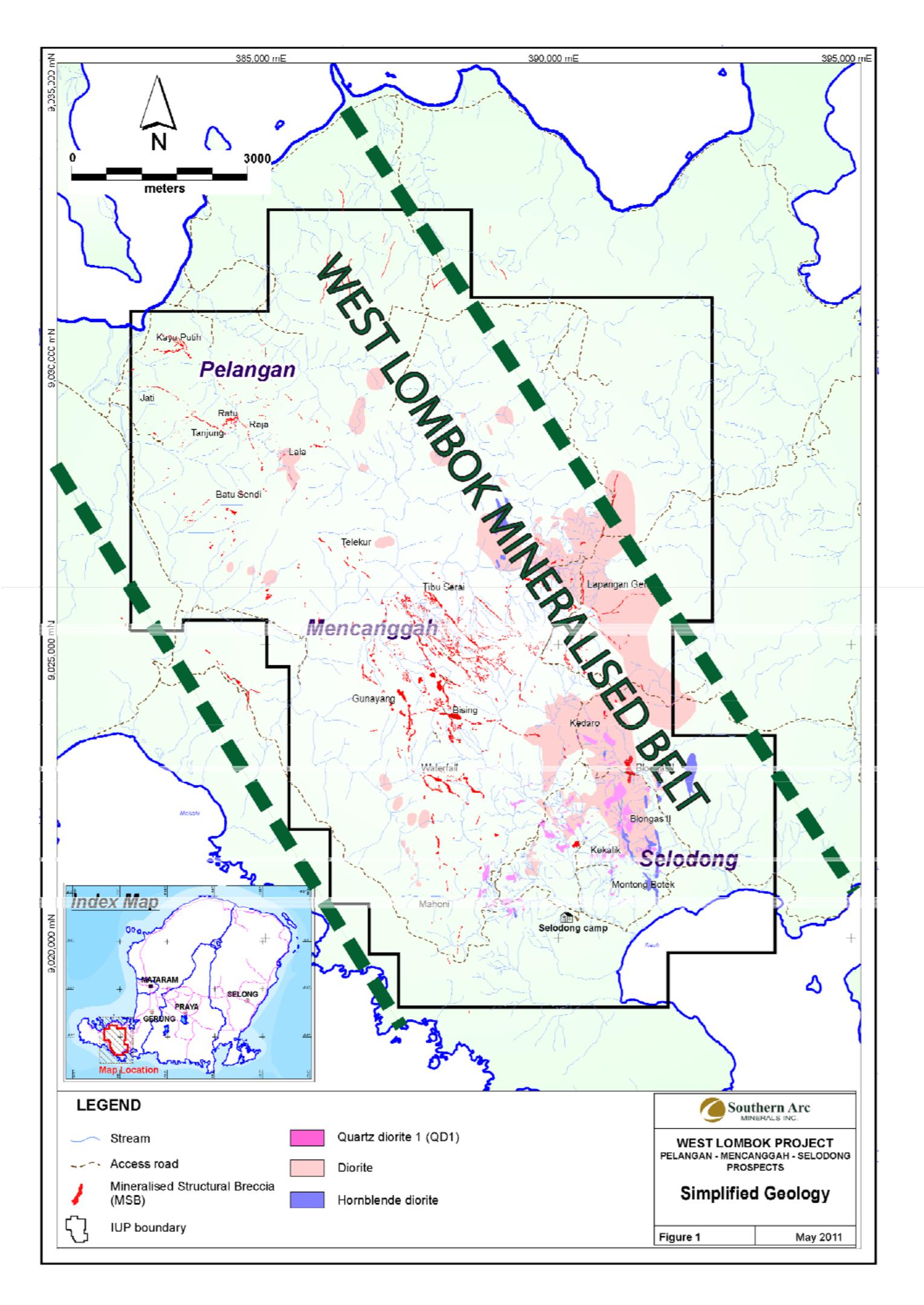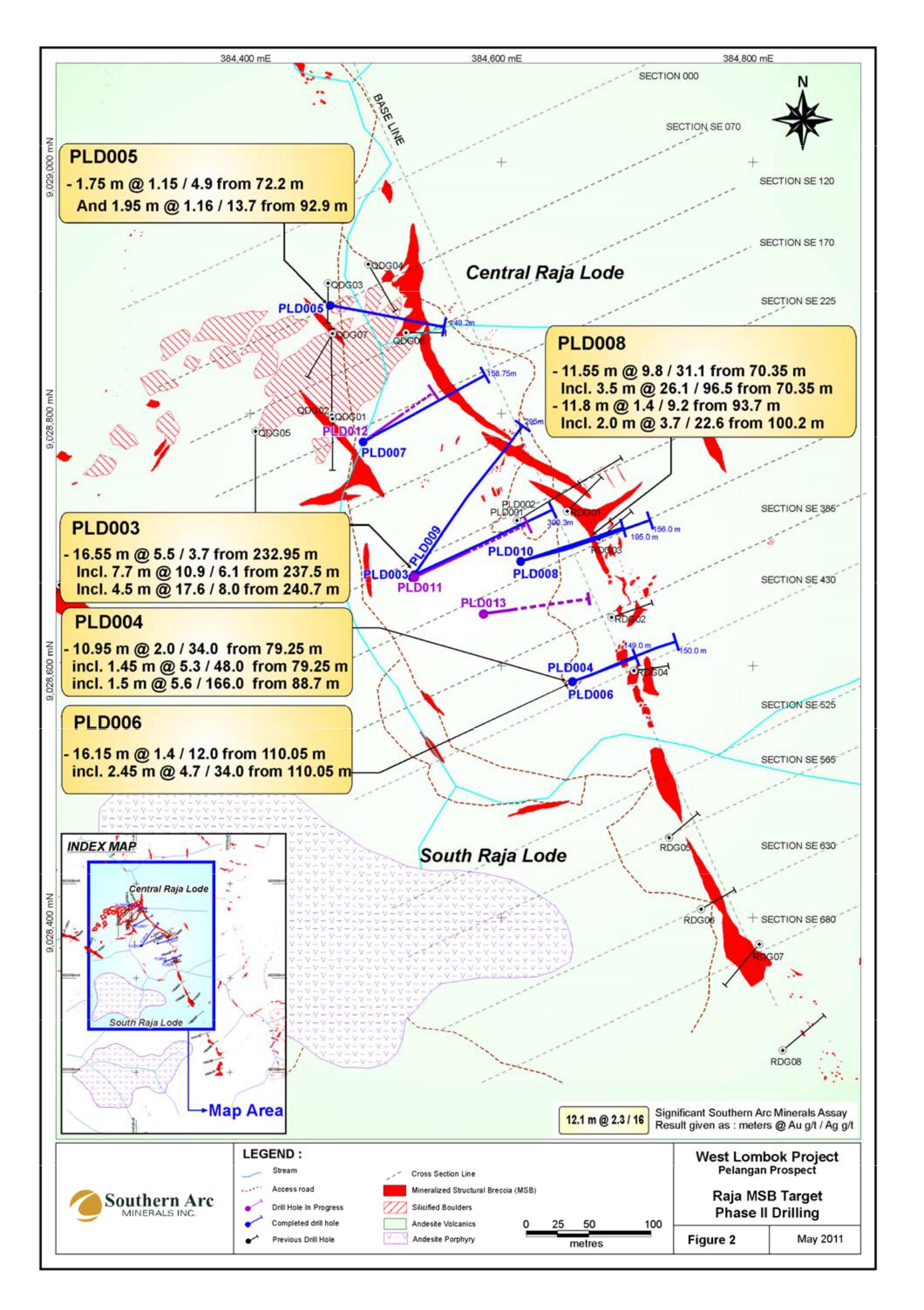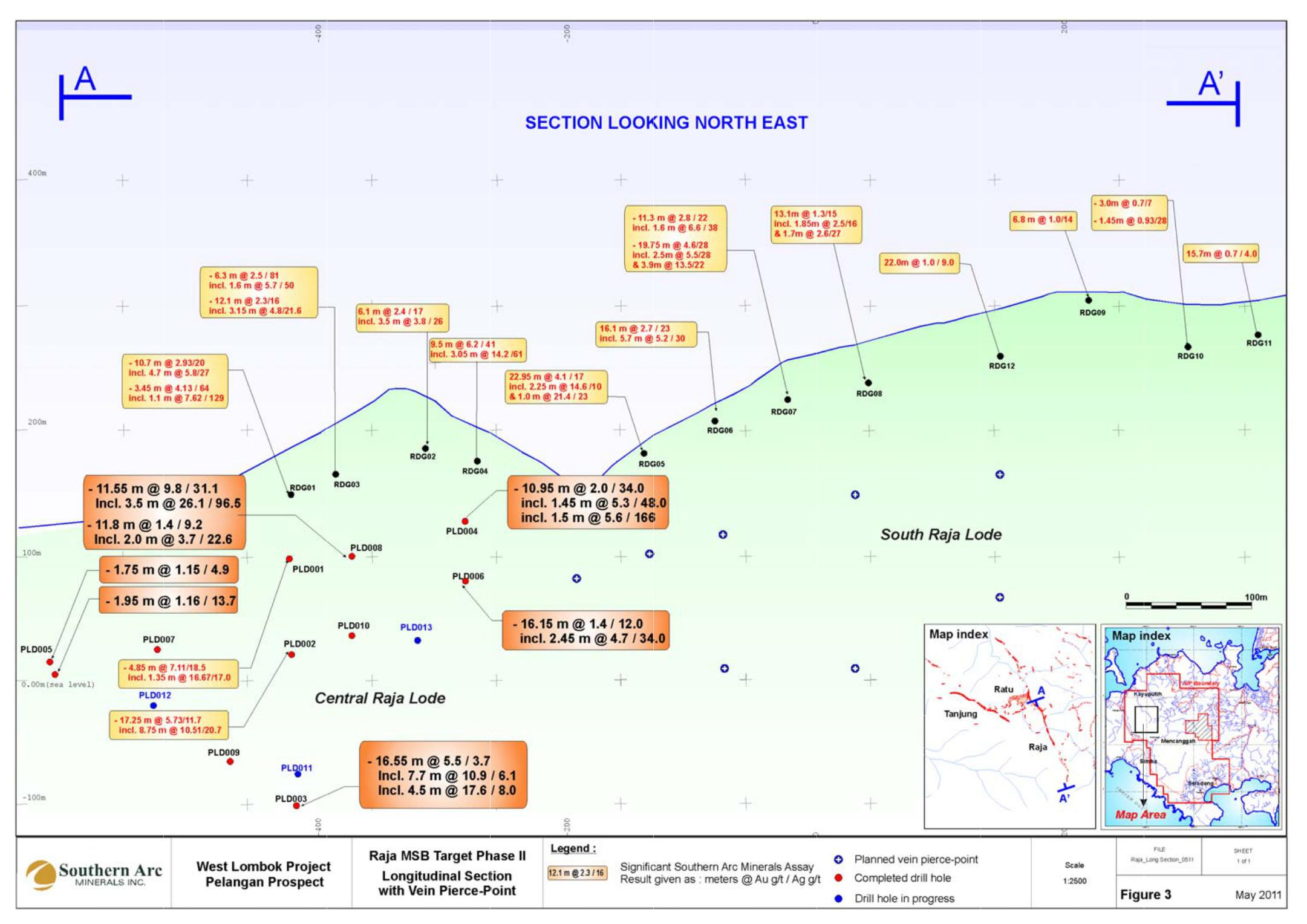 Table 1 Pelangan Phase 2 Exploration Drilling, West Lombok
Drill Hole Number
Easting
RL
Azimuth
Dip
NorthingDrilling Production
Collared(startd rilling)
Completed
Depth
PLD003
384530.86
9028672.13
120.39
65
‐65
27‐Mar‐2011
11‐Apr‐2011
300.30
PLD004
384656.23
9028587.23
186.80
70
‐50
27‐Mar‐2011
1‐Apr‐2011
150.00
PLD005
384463.82
9028885.90
71.64
100
‐50
29‐Mar‐2011
8‐Apr‐2011
149.20
PLD006
384656.23
9028587.23
186.80
70
‐68
1‐Apr‐2011
9‐Apr‐2011
149.00
PLD007
384489.97
9028777.55
77.61
62
‐45
11‐Apr‐2011
27‐Apr‐2011
158.75
PLD008
384615.30
9028682.71
161.19
75
‐45
15‐Apr‐2011
24‐Apr‐2011
156.00
PLD009
384530.86
9028672.13
120.39
32
‐60
13‐Apr‐2011
26‐Apr‐2011
295.00
PLD010
384615.30
9028682.71
161.19
72
‐70
24‐Apr‐2011
5‐May‐2011
195.00
PLD011
384529.00
9028670.00
117.00
65
‐60
28‐Apr‐2011
10‐May‐2011
282.35
PLD012
384489.97
9028777.55
77.61
55
‐70
1‐May‐2011
190.65
PLD013
384586.00
9028642.00
169.00
82
‐65
7‐May‐2011
15.60